Welcome to Our Service Department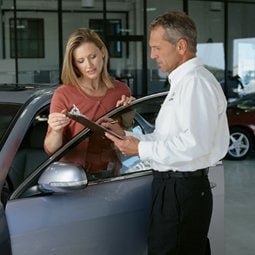 At Murray Motors Lock Haven, our highly qualified technicians are here to provide exceptional service in a timely manner. From oil changes to transmission replacements, we are dedicated to maintaining top tier customer service, for both new and pre-owned car buyers! Allow our staff to demonstrate our commitment to excellence.
Get the Quality Care You Need for Your Ford at Murray Motors
If you vowed to stay current with routine maintenance for your new Ford as you drove it off the lot for the first time, we can help you stay true to that promise. Murray Motors offers a full range of services that will keep things at peak performance.
Your engine thrives the most with clean oil, so keep to its schedule with regular oil changes. Not only will you maintain a high level of performance, but you'll also increase efficiency while lowering engine temperature, thereby saving money on gas by requiring less fuel. Oil also cleans your engine, meaning you'll have less sludge to remove the next time you want to do a thorough engine wash.
You can get the most out of your tire investment with regular rotations that help you avoid wearing a certain section down more quickly on isolated wheels. No one wants to buy a new set of tires before they need to, and regular pressure checks, tread inspections, and rotations can avoid early replacement. Your brakes are a complementary system with your tires, working to safely slow your vehicle. Avoid neglecting them with inspections, brake pad replacement, and hydraulic fluid flushes to ensure they're working properly.
Your Ford does best when its replacement parts are manufactured by Ford and its technicians are certified in Ford care. You can leave your vehicle with us at Murray Motors, knowing that we'll quickly and accurately diagnose and repair any issues it may have. We'll also focus on preventive maintenance, following Ford's specifications for your particular model. Visit us today for an oil change, brake replacement, or tire rotation, or you can contact us with any questions you have about what your Ford needs to perform at its best.